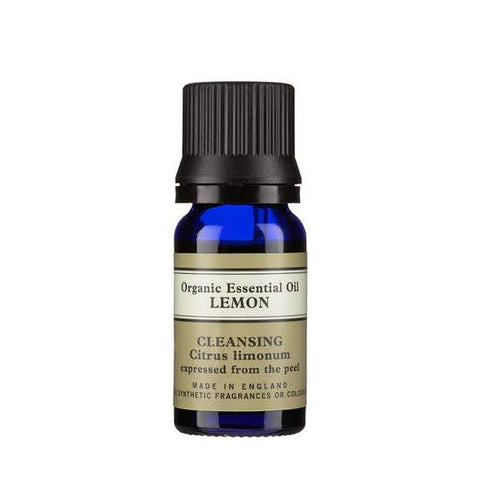 Lemon Organic Essential Oil
Free Shipping Over $99

3 Free Samples With Every Purchase

Easy 28 Days Returns
Latin name: Citrus limonum
Effect: Cleansing
Bottle Size: 10ml

Expressed from the rind of the fruit. 
Uplifting and fruity
Toning and clarifying for the skin and environment.
Ideal for diffusion. 
Blends well with peppermint, rosemary and juniper.
Caution: Use in moderation on the skin as can be irritant. 
As a listed ingredient in James Wong's 'ANTIOXIDANT OLIVE LEAF CLAY MASK' recipe from his new book 'Grow Your Own Drugs - a year with James Wong'.
Suitable for vegans
About our products:
• Always cruelty free with no animal testing
• Certified organic skincare with 100% natural ingredients
• Our products never contain any of the following: synthetic fragrances, silicones, parabens, phthalates, mineral oils, DEA, EDTA, nano technology, genetically modified organisms (GMO), petroleum or BHT. Why? Because we operate on the precautionary principle which simply means that when in doubt about an ingredient's safety, we leave it out.
• Our packaging is made from recycled cardboard and is printed with vegetable based inks
• Our 100% recyclable blue glass bottles are made from UK sand, limestone and soda ash and our blue plastic bottles are made from 100% recycled materials
--- Usage
How to Use:
Baths: blend 5-8 drops in a teaspoon of carrier oil or full fat milk, add to bath
Massages: add 2-3 drops of essential oils to 3 tablespoonfuls of carrier oil
Diffusion: add 2-4 drops of essential oils to a burner, aroma stone or aroma stream
Country of Origin: Italy
No details
No details
About Our Products
Always cruelty-free with no animal testing
Certified organic skincare with 100% natural ingredients
Our products never contain any of the following: synthetic fragrances, silicones, parabens, phthalates, mineral oils, DEA, EDTA, nanotechnology, genetically modified organisms (GMO), petroleum or BHT. Why? Because we operate on the precautionary principle

which simply means that when in doubt about an ingredient's safety, we leave it out.
Our packaging is made from recycled cardboard and is printed with vegetable-based inks
Our 100% recyclable blue glass bottles are made from UK sand, limestone and soda ash and our blue plastic bottles are made from 100% recycled materialsbottles are made from 100% recycled materials