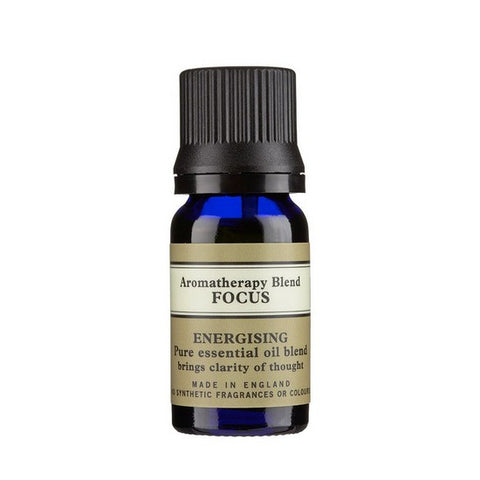 Aromatherapy Blend - Focus Essential Oil
Free Shipping Over $99

3 Free Samples With Every Purchase

Easy 28 Days Returns
Key action: Energizing
Bottle Size: 10ml
This blend of spearmint and rosemary helps clear the head and refocus the mind. It will help you tackle difficult tasks and academic learning with renewed vigor and clarity. Ideal for diffusion.
Suitable for vegans
About our products:
• Always cruelty free with no animal testing
• Certified organic skincare with 100% natural ingredients
• Our products never contain any of the following: synthetic fragrances, silicones, parabens, phthalates, mineral oils, DEA, EDTA, nano technology, genetically modified organisms (GMO), petroleum or BHT. Why? Because we operate on the precautionary principle which simply means that when in doubt about an ingredient's safety, we leave it out.
• Our packaging is made from recycled cardboard and is printed with vegetable based inks
• Our 100% recyclable blue glass bottles are made from UK sand, limestone and soda ash and our blue plastic bottles are made from 100% recycled materials
--- Usage
Applications: Inhalation, Diffusion.
Inhalation: Help clear the head and nose with 4-6 drops of essential oil added to a bowl of steaming water. Now place a towel over your head and lean over the bowl - creating a tent effect to trap the steam - and inhale the vapour for a few minutes.
Diffusion: Essential oils make fantastic natural air fresheners, fragrancing a room as well as setting a mood. Simply add a few drops of your chosen essential oils to a vaporizer or burner - follow the instructions on the burner.
Directions: Do not use on the skin. Avoid contact with the eyes. Keep out of reach of children. Flammable.
--- Ingredients
Rosmarinus officinalis (Rosemary) leaf oil*, Citrus sinensis (Orange) peel oil expressed*, Citrus paradisi m. (Grapefruit) peel oil expressed*, Eugenia caryophyllata (Clove) bud oil*, Mentha spicata (Spearmint / Garden mint) herb oil*, Laurus nobilis (Bay laurel) leaf oil*, Abies alba (Silver fir) needle oil*, Citral, Citronellol, Eugenol, Farnesol, Geraniol, Isoeugenol, Limonene, Linalool.
*Organically produced ingredient. Natural constituent of essential oils listed. Made with 100% organic ingredients. This is a vegan product.
No details
No details
About Our Products
Always cruelty-free with no animal testing
Certified organic skincare with 100% natural ingredients
Our products never contain any of the following: synthetic fragrances, silicones, parabens, phthalates, mineral oils, DEA, EDTA, nanotechnology, genetically modified organisms (GMO), petroleum or BHT. Why? Because we operate on the precautionary principle

which simply means that when in doubt about an ingredient's safety, we leave it out.
Our packaging is made from recycled cardboard and is printed with vegetable-based inks
Our 100% recyclable blue glass bottles are made from UK sand, limestone and soda ash and our blue plastic bottles are made from 100% recycled materialsbottles are made from 100% recycled materials