Life is full of surprises, but they're not always particularly welcome. Whether it's work issues, family problems, money worries, or a global pandemic – the world has a way of throwing us unexpected curveballs that can lead us to feel stressed.
When life feels overwhelming, it's important to take a step back and find healthy ways to manage your stress. We know you're busy running the world, but we're big believers in taking time to look after yourself, and that could be as simple as lighting a candle.
Here are some of our favourite natural remedies for dealing with stress.
Put the kettle on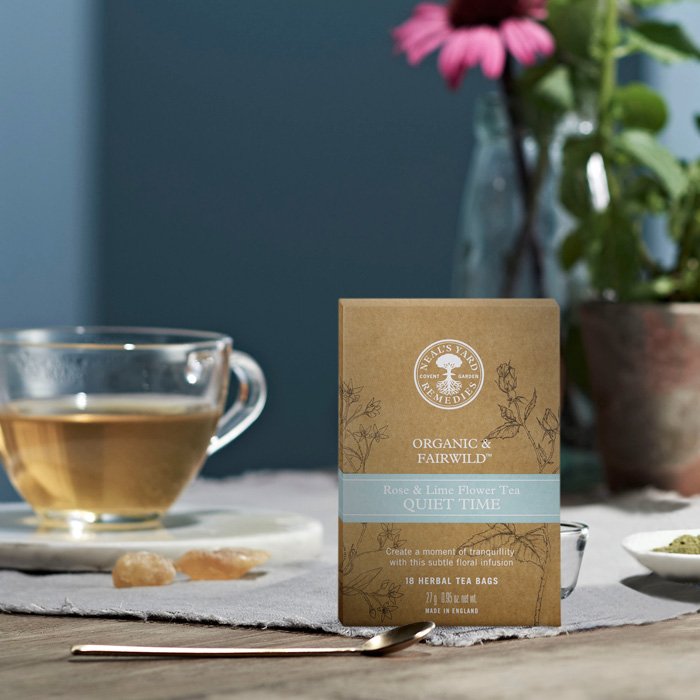 Give yourself five minutes away from the chaos of life and create a moment of tranquillity with a cup of our Quiet Time Tea.
The subtle floral infusion is formulated by our herbal experts to help you feel calm, quiet and mindful. Whether you need a break from work, or you want to start your day feeling less stressed, allow yourself a few minutes of quiet time to focus your mind and relax.
Get a good night's sleep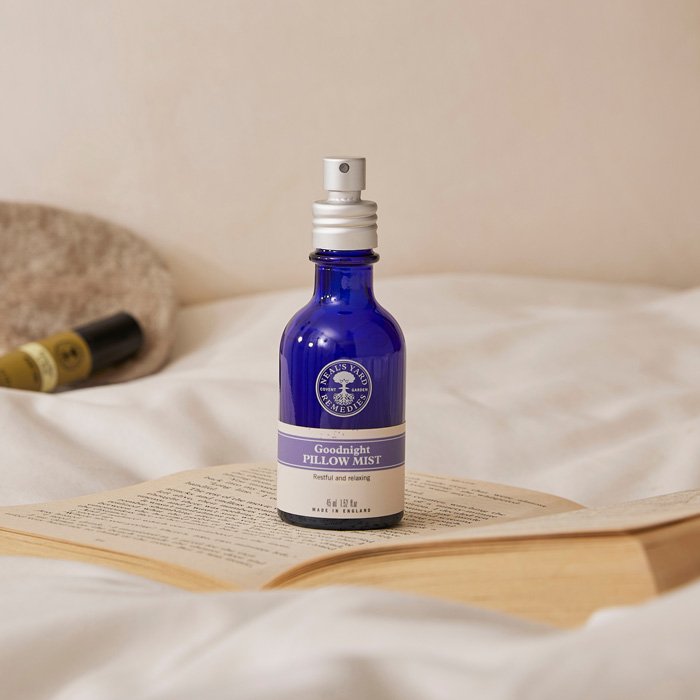 We know it's easier said than done but getting a good night's sleep can be a great remedy for dealing with stress. If you find yourself lying awake at night, a spritz of our Goodnight Pillow Mist can help you to enjoy a sense of calm for a peaceful night.
When you wake up refreshed, you'll be ready to tackle all the challenges life throws at you that day.
Cozy up
Creating a relaxing ambience can make all the difference when you're trying to unwind from a stressful day. So, when the opportunity comes up, put your cosiest pyjamas on, reach for your favourite book and light a candle for a peaceful evening at home.
Beautifully scented with soothing rose and comforting geranium organic essential oils, our Calming Aromatherapy Candle creates a naturally comforting aroma that helps you feel a sense of serenity and tranquillity.
Enjoy a mindful moment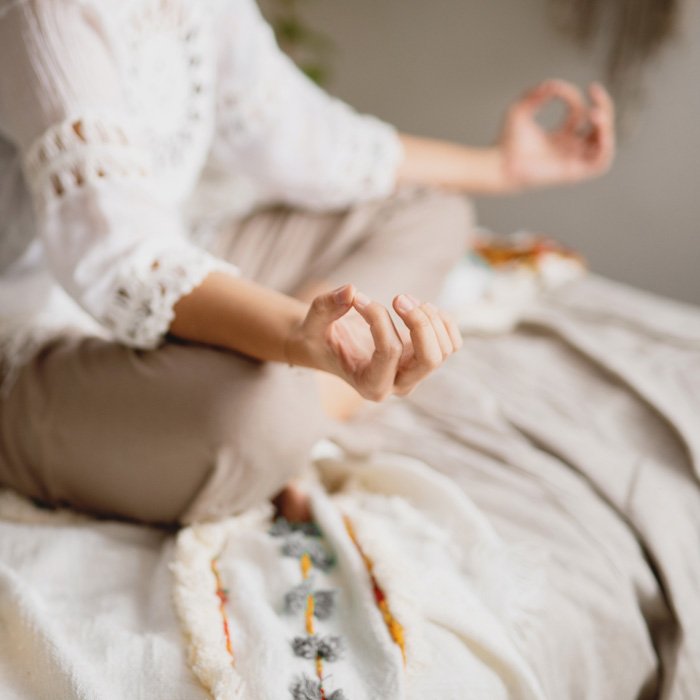 Meditation can be a useful tool to help you slow down racing thoughts and focus on the bigger picture. Regularly sitting down for ten minutes of focused concentration can make it easier to manage your stress and anxiety. 
To create a sensory haven in your home, our Calming Aromatherapy Room Spray is a perfect pairing for your meditation session. Using 100% natural fragrance with organic essential oils, a spritz of this spray helps you feel refreshed and ready to tackle your day with confidence.
Spend quality time
A Zoom call with your friends, a cuddle on the sofa with your dog, or a walk in the park with your mum – sometimes spending quality time with our loved ones can be all we need to help us feel less stressed.
Laughing and chatting help to release endorphins – the body's natural feel-good chemicals – which make us feel better. Being part of a close network of friends and family can also give you a sense of belonging and self-worth, which can really help on those tougher days.
So, grab a cup of tea with your best mate and enjoy a good dose of serotonin.
Move your body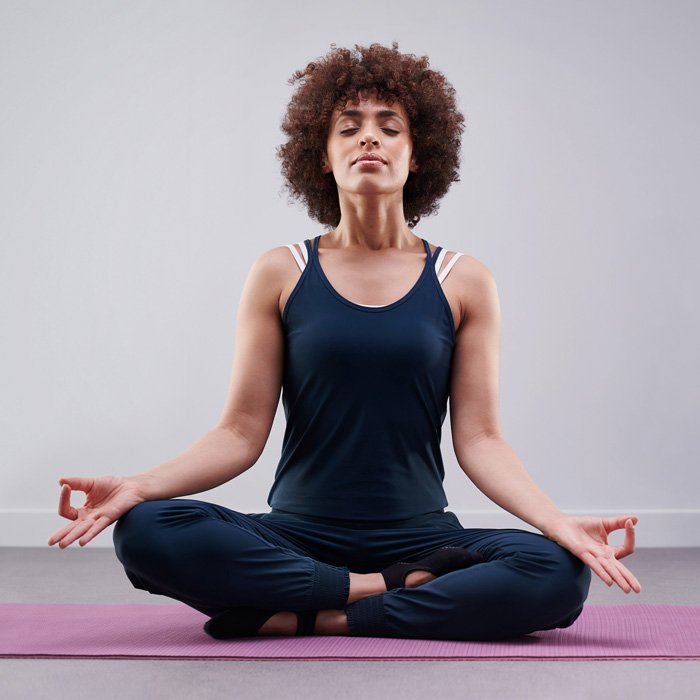 One of the most effective natural remedies for dealing with stress is exercise.
Whether you escape the house for a 10km run, find a quiet room for half an hour of yoga, or join an online HIIT class, getting your body moving and your heart pumping is a great way to burn off anxious energy. 
Afterwards, you can treat yourself to an extra-long soak in the shower using our Aromatic Shower Gel to cleanse and condition your skin. The relaxing lavender and comforting geranium scents will help you to gently unwind after a good workout.
If baths are more your thing, our Seaweed and Arnica Foaming Bath is also great for aiding muscle recovery.
Keep natural remedies close by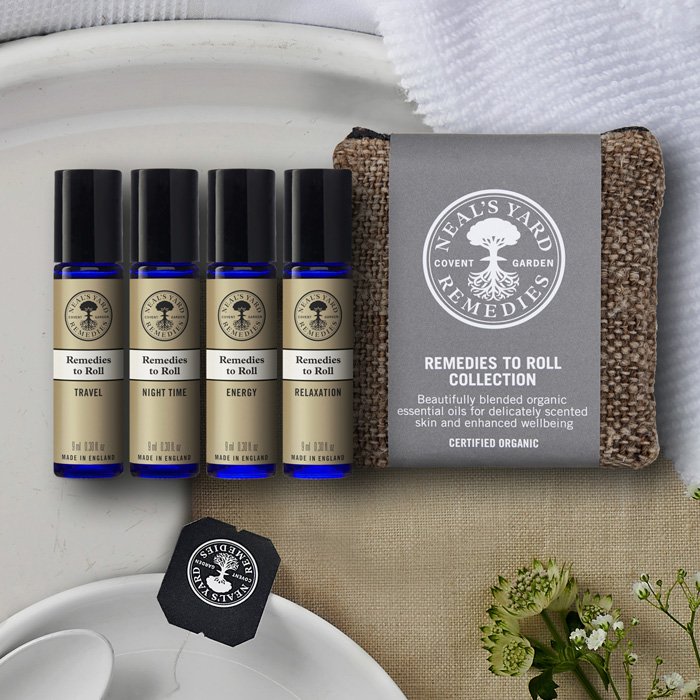 Our Remedies to Roll – Relaxation is perfect for helping you relax and de-stress at any time of the day.
Using essential oils on your pulse points allows the therapeutic properties of the oils to work with your body. Roll the remedy onto your inner-wrist and the side of your neck, gently inhaling the aroma to help restore a little harmony to your day.
The comforting blend of lavender, bergamot and frankincense is really soothing, helping you to unwind from a stressful event. Just keep it on your desk or pop it in your bag so it's on hand to apply throughout the day.
Have a massage
For some serious stress relief, a full body massage is a great option. 
You can still experience some tension relief and muscle relaxation with a self-massage from home, however. Our Aromatic Massage Oil is ideal for this kind of skin conditioning massage. Made from a blend of soothing essential oils in a vitamin-rich base, it leaves your body and mind feeling balanced and more relaxed.
Simply apply a small amount of oil to one palm, warm it by rubbing your hands together, then massage into your skin.
Whether you choose to try one of our natural remedies for dealing with stress, or all of them, we hope you'll find something that works for you. Remember that feeling stressed is a normal part of life, but it shouldn't overwhelm you.
Taking a few minutes out of your day to relax and unwind is really important for managing your stress levels and feeling ready to tackle life's daily challenges.
Take a look at our website for more stress-busting wellbeing solutions.